Updated by
12 April, 2022
Coduzion Technologies is Proud to Be India's 2022 Leading Design Agency on Clutch
Looking for an award-winning team that is enthusiastic and passionate about programming and designing? Well, you don't need to look further because Coduzion Technologies is here for you. Headquartered in Ahmedabad, India, we are a team that is dedicated to providing smooth service and trendy platforms to help our clients make their unique stamp and the respective industries. For over eight years, we've helped our clients drive great traffic, increase their sales, and make better user engagement through our bespoke solutions.
Today, our team is celebrating a fantastic recognition in light of our clients' tremendous support. Just recently, we caught wind that Clutch officially ranked us in their design directory. During their highly anticipated awards cycle, Coduzion Technologies was recognized as one of India's best design agencies this 2022!
The Highlights of Clutch Reviews.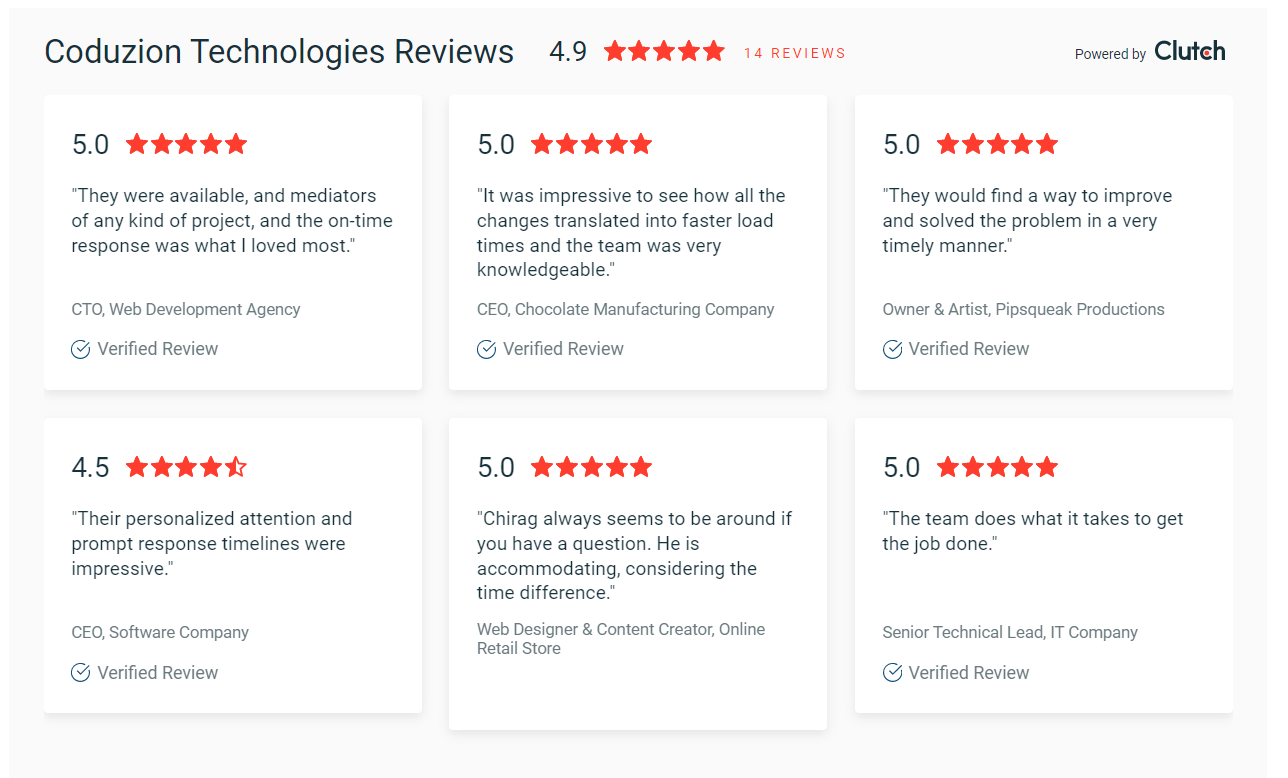 Clutch is a Washington, DC-based B2B ratings and reviews platform that assesses technology service and solution providers based on the quality of their work, innovative thinking, and client feedback. Clutch honors its top-performing companies in a variety of sectors and geographies throughout the year. These companies meet the high requirements of the platform's selection methodology and can be trusted by potential clients to deliver on new projects.
"The recognition from Clutch is an immense validity to the hard work, passion, and integrity that we bring as a partner to our customers. We strive and hustle to implement market-leading products and solutions for our customers."

— Chirag Bhavsar (CEO & Founder, Coduzion)
Thank you so much to all our clients who helped us earn this wonderful award, especially to those who reviewed us on Clutch. The unbelievable support you have in our team is what pushes us to wake up and aim higher each day. We can't thank you enough for the support!

Have any questions for us? Let's work together and you'll see why our clients love collaborating with us. Don't hesitate to get in touch with us and let's discover more opportunities!
Recent articles in Coduzion