Updated by
2 January, 2023
NFTs, Metaverse & Blockchain – How it Changing the eCommerce Technology
Crypto, NFTs, the Metaverse, and blockchain technology have contributed a lot to the way we think about digital assets.
With time, there has been an increase in their popularity as they are now thought to be in the term of eCommerce too. If put to use in the right manner, they can definitely reshape the sector as we know it.
While several industries were struggling to stay afloat in the last two challenging years, on the other hand, the eCommerce sector was booming.
There was an enormous increase in the number of customers turning to online shopping during the pandemic. According to research, There was an increase by a whopping 14.3 per cent in the global eCommerce sales between 2020 and 2021. 
The sole reason behind the success of eCommerce is nothing but forward-thinking and the ease of embracing new technology.
Last year, we saw a huge impact of NFTs, crypto, the Metaverse and Web 3.0. They have carved a new path for businesses to expand and grow, there's plenty more to come.
1. Blockchain eCommerce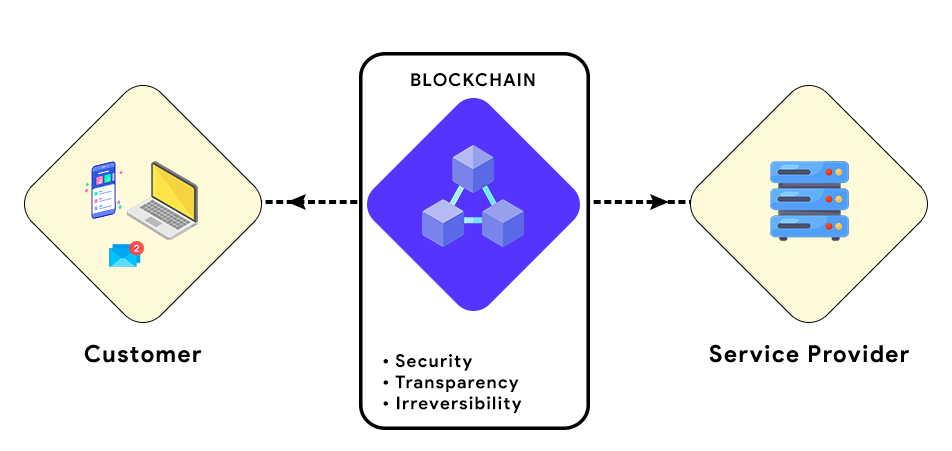 Blockchain is one of the most interesting words doing rounds in the world of eCommerce. But still, there is a lot of confusion regarding what it is actually. Well, it is quite similar to Bitcoin, but it is not a type of cryptocurrency nor it's a programming language.
It is a simple new technology in the market. Blockchain technology is a highly secured ledger that keeps a record of all the transactions ever made. 
Blockchain technology is something that is becoming an important part of the global economy. The eCommerce sector is taking proper notes of the same.
A whopping total of  22,000 venues from all around the world let their customers pay through Cryptocurrency. Some of these brands are Microsoft, Expedia, and Overstock. One thing that is going to attract more traction in online shopping is none other than Blockchain.
To your knowledge, Cryptocurrency is not the sole opportunity that blockchain provides for forward-thinking retailers. There are several benefits of blockchain in eCommerce such as providing faster and affordable business processes greater data security and an improved customer experience. 
As blockchain is known to make transactions faster and safer, it has a greater impact on eCommerce overall. One of the most common blockchain technologies in eCommerce is  Ethereum. It provides a platform for eCommerce brands that wish to manage their own blockchain. 
There are several benefits of blockchain in eCommerce such as making your financial transaction more secure. One can think of it as a win-win situation for both brands and the buyer. Besides this, it also offers other benefits like cutting costs, improving business processes, making transactions faster, and improving the overall customer experience. 
2. NFTs – digital ownership changes the eCommerce landscape
The term NFT refers to Non-Fungible Tokens and it is non-exchangeable. Generally, Fungible assets can be both tangible and intangible. The tangible assets consist of houses, money, and property. Whereas the intangible assets include cryptocurrency. Talking about NFT, it is strictly digital-based.
An NFT can present any physical asset in digital format. Whenever someone buys an NFT, they become the owner of a particular product. But still, they don't have a license to use it. One can have the ownership as long as they wish to or can also sell it to a new buyer as a result of this. 
Here, we come to a point where everyone must be thinking: How can NFTs possibly enhance my business – as my products are all physical goods? 
Well, selling digital products completely might become a threat to eCommerce merchants all over the world, it actually opens new ladders of opportunities in all industries.
Selling digital-physical product bundles
People are widely looking forward to exploring the digital verse as they also wish to have their avatar on these digital landscapes. Thus, if you pair NFTs along with physical products, they provide you with a brand new way to appeal to Metaverse-early adopters and traditional buyers who only care about owning the real products. 
Nike is one of those brands that is quite ahead of the curve. It has already secured the patent for an NFT-based line of sneakers known as 'Cryptokicks'. They have done this by building their own blockchain system. The art and fashion industry is currently the trendsetter for NFTs, demonstrated by the huge investment and participation from other top brands such as Balmain and Gucci.
Instant gratification
There has been an increase in the popularity of eCommerce, but still, it will never be able to match the brick-and-mortar experience. The reason behind this is the ability to buy the product immediately. All across the world, customers are demanding same-day delivery. Due to this, companies are struggling to create a good experience and meet tight delivery deadlines
But with NFT and hybrid shopping, customers are able to fill this experience gap. When a person decides upon buying a tangible product that comes with a virtual NFT, they become the owner of this product. No matter if they'll have to wait for a little for actually receive the item. 
3. Going Meta in the Alpha world of Ecommerce
We all have a basic idea that the metaverse will surely be a virtual world. But it will also complement our physical world. It is said that eCommerce will be part and parcel of the metaverse. Anyways we buy things in the real physical world, so why not metaverse. 
We all can be sure that a company like Facebook won't invest such a huge amount in metaverse if there wasn't a buck in it. So, it is safe to say that there is enough place for eCommerce in the metaverse. 
Meta and Zuckerberg himself have been quite clear that shopping and commerce are the way toward the digital revolution. Metaverse is going to touch on some big themes that they are currently working on. One can think of community and creators as one, digital commerce as a second. They are set to build out the next set of computing platforms. 
Metaverse is something that will definitely remove several physical constraints that we get to see in commerce today. People who are going to gain a lot from metaverse are the payment providers. As customers won't be able to pay in cash for goods and services in a virtual world. So, it is quite an evidence that Mastercard has outlined how it sees the metaverse and eCommerce developing.
Metaverse is about to become potential new economies, new currencies and new lives. Currently, they are at an early stage of this Sci-Fi like technology. So, it is next to impossible to predict where it will go with absolute conviction. It is definitely going to change the way people shop forever.
Web 3.0 and the Future of Personalisation
Web 3.0 is on the verge of changing the internet as we know it. It might change the way we interact online since it started. Big data and analysis are still going to remain important. The only thing that is going to change is the way eCommerce platforms operate and interact with their customers is about to change radically.
Conclusion
In recent times, tech has been seeing an exponential rise in the market. In order to stay in the competition, it is quite important to capitalize on the same. In this blog, we have already covered several multitudes of tech that will be impacting us in 2022 and afar. The best possible way to stay in a leading position is to get started at the beginning of the curve.
Talking about Web 3.0, it is still in the developing stage. So, all we can do is predict what will happen but the future's still unknown. Well, there are higher chances of it leading towards democratization. But, we think, one of the biggest changes for eCommerce will be nothing but the evolution of customisation.
Last but not least, we hope this blog will provide you with all the information regarding the trends in eCommerce technology. Connect us here to get a Blockchain eCommerce development service.
Recent articles in Coduzion