Updated by
21 March, 2023
The Future of Mobile Commerce & Its Impact on eCommerce
Over the past decade, what I've noticed is mobile commerce or M-Commerce is rapidly gaining momentum.
It is changing the face of the traditional eCommerce we know (or at least we used to).
With the increase in smart devices, consumers have the flexibility to shop and make purchases from anywhere, at any time.
While researching the same, I found that website traffic from mobile devices is continuously hovering around 59% for the last four quarters.
Also, another report I found on mobile commerce statistics says that mobile devices drove 73% of traffic to eCommerce sites in Feb '23.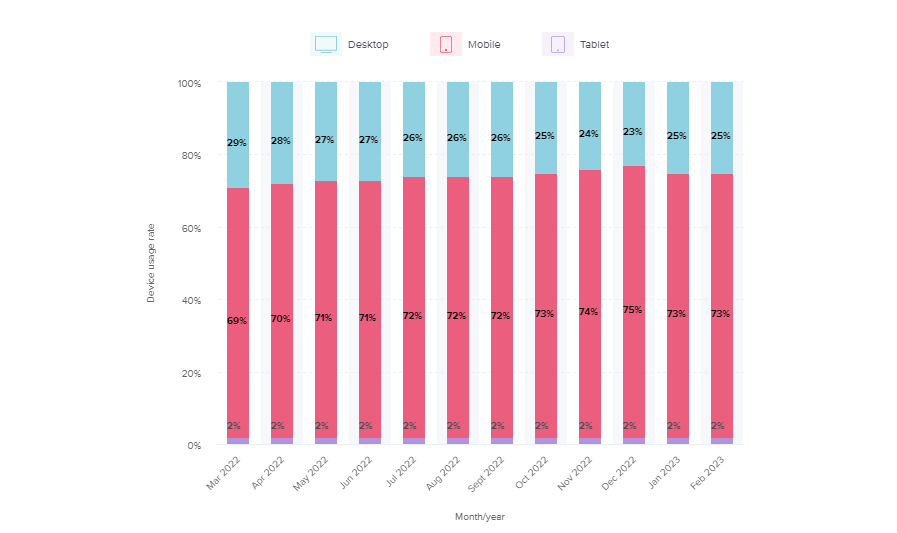 I don't know if it's true, but there are more smart devices than people (duh!) who use them to browse products, compare prices, and buy online.
All thanks to that, mobile commerce is emerging as a next-gen shopping channel, specifically for (GenZs & Lazis 😜).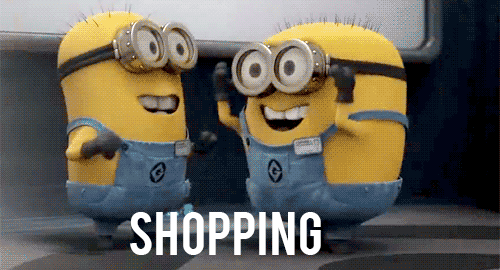 However, this rise in mobile commerce profoundly impacted e-commerce. It is forcing brands to adapt and optimize their online stores for mobile devices.
In this article, I'll try to explain the key reasons behind the immense growth of M-Commerce, its advantages, challenges, and its impact on eCommerce.
Also, I'll discuss mobile commerce solutions that help you in your M-Commerce journey. But before I get into that, let's first glance over what M-Commerce is:
What is Mobile Commerce (M-Commerce)?
Mobile commerce is where the buying and selling of goods and services happen on mobile devices such as smartphones and tablets.
Here, the consumers use specialized mobile commerce websites, apps or PWA (Progressive Web Apps) to make purchases online.
The biggest selling point for consumers using mobile devices to transact online is they can do so from anywhere, at any time without needing their desktops. (so old school nowadays)
M-Commerce isn't a new technology per se, but an extension of eCommerce that has been here for over two decades.
It's a critical aspect of e-commerce businesses that are striving to provide a seamless mobile shopping experience.
In my opinion, M-Commerce reflects the natural progression of technology.
Since users are getting more accustomed to spending time on their mobile devices, desktop shopping is becoming obsolete.
Thanks to that, M-Commerce has become an increasingly popular way for consumers to shop online.
History and The Rise of M-Commerce
The term mobile commerce was coined by Kevin Duffey in 1997 at the launch of the Global Mobile Commerce Forum. (Ironic!)
In the same year, the M-Commerce service was first delivered when the two mobile-phone-enabled Coca-Cola vending machines were installed in Finland.
These machines accepted payment via SMS text messages. (Quite advanced for their time!)
Since then mobile commerce hasn't looked back and is expected to account for 43.4% of total retail sales in 2023.
While the same for the US is 6.5%, which is likely to reach 8.7% in 2026.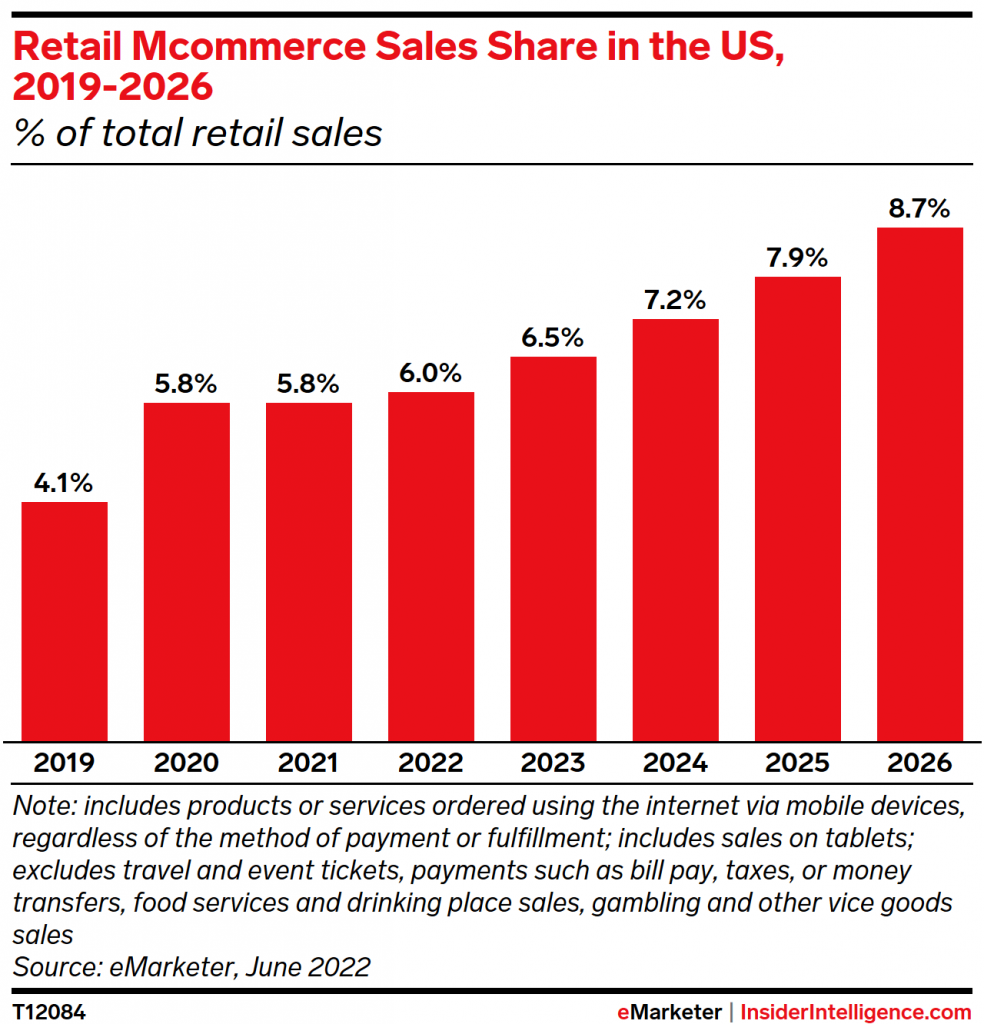 This growth of M-Commerce is directly linked to how users access the internet.
Thanks to the higher internet penetration rates and increased convenience smart devices offer, consumers are doing away with computers.
And as consumers steadily shift to pocket devices, eCommerce brands are also starting to embrace the trend of mobile commerce.
Many retailers that I know of have already begun to optimize their websites for mobiles while others developed specialized apps or PWAs.
Further, bankers have noticed the inseparable bond between consumers and mobile devices.
They've leveraged this bond to introduce banking apps that help users complete transactions online within seconds.
Such mobile commerce solutions only go to say that M-Commerce is en route to becoming a major shopping channel soon (or maybe just this moment!).
More and more consumers rely on digital devices today, making mobiles potentially a preferred channel.
The following factors further contribute to this rise of eCommerce and mobile commerce:
Increased internet penetration rate

Increased smartphone adoption

The convenience of shopping anywhere, anytime

Availability of mobile payment systems

The natural progression of digital technology

Mobile optimization of website, apps, and PWAs

Social media integration
Advantages of Mobile Commerce
As consumers become more technologically savvy, it's essential that brands also follow the suit and adopt M-Commerce.
That said, here I list some advantages of mobile commerce:
By adopting M-Commerce, you'd make your products and services accessible to wider audiences and increase their chances of discovery.

Mobile commerce empowers consumers to complete transactions quickly in fewer steps than traditional shopping.

M-Commerce provides you with insights and data to personalize the recommendations.

Mobile-optimized sites enable businesses to engage more customers through push notifications and other mobile marketing strategies.

With mobile commerce, you can opt for business development and expansion to generate more sales and revenue.

A

mobile commerce website

or app allows you to capitalize on the impulse purchases your consumers may make (whenever they feel hungry).
Challenges of Mobile Commerce
While there are several benefits of M-Commerce, it also poses several challenges that businesses and consumers may face.
Let's glance over some of the key challenges of mobile commerce:
Consumer data privacy is the biggest concern mobile commerce brands face as they feel more responsible to protect user data.

Due to the limited screen size of mobile devices, it becomes challenging for brands to display products and provide detailed information, which can impact the overall user experience.

Poor network connectivity or slow internet speeds is another challenge that leads to issues with mobile payments and checkout and impacts the overall mobile shopping experience.

With the increased popularity and adoption of M-Commerce, competition from mobile-first companies and startups may rise.
How the Rise of Mobile Commerce Impacted eCommerce
When I think about the impact of mobile commerce on eCommerce, I think it has positively impacted the industry as it helps businesses get more traction.
Today's consumers are switching to mobile devices for all purchases. This has forced businesses to adapt and optimize their online storefronts for mobiles.
Further, the increased popularity of M-Commerce has led consumers to expect a seamless experience.
To meet these consumer demands, businesses are investing in mobile commerce app development, optimizing sites for mobiles, or developing PWAs.
Doing so can help businesses offer seamless mobile shopping experiences and increase customer satisfaction levels.
But that's not all that eCommerce businesses are facing. The rise of eCommerce and mobile commerce has also given rise to competition. (huh 🥹!)
Today, eCommerce brands are facing increased competition from their mobile-first rivals and startups. (It's a question of survival.)
To stay competitive & survive, brands are adopting mobile technology and prioritizing the mobile-first experience.
Additionally, mobile commerce has given birth to mobile payments and digital wallets. 
They've also become a crucial part for eCommerce to offer hassle-free checkout.
Overall, mobile commerce has had a transformative impact on e-commerce, pushing businesses to adapt to the changing landscape.
Future of Mobile Commerce
and eCommerce
From the initial look, the future of mobile commerce and eCommerce looks promising enough as technology continues to evolve.
Since every other person in our vicinity holds a mobile device in their hands (while some bang their heads on the pole 😵‍💫), it gives them the power to make purchases on the go.
That said, let's have a look at some mobile commerce trends that shape the future of mobile commerce and eCommerce:
Apple Pay, Google Pay, and Samsung Pay are becoming popular payment options for M-Commerce and eCommerce.

New startups are emerging as mobile-first-only solutions to leverage the technology to provide seamless mobile shopping.

The rise of

AR and VR tech for eCommerce

has enabled consumers to preview products in a more immersive way through their mobile for informed purchasing decisions.

Mobile commerce has also given rise to social commerce, where people engage and purchase products via social media (a residence for GenZs).

Increased consumer data and shopping behavior have enabled brands to hyper-personalize shopping on mobile devices.
Final Words
The rise in M-Commerce has fundamentally changed the way consumers shop and transact online.
As I explained, mobile commerce has been around here for over two decades, but the recent adoption and adaptability helped eCommerce brands taste success.
Today, it has become necessary for eCommerce businesses to utilize mobile-first strategies to survive in this cut-throat competition.
And as the mobile landscape evolves, it'll be critical for businesses to stay ahead of the curve and bring innovation to meet the changing needs and expectations of mobile consumers.
Finding it tough to understand GenZs? (That makes us two!)
Coduzion is a curated team of experts that help you achieve digital excellence with custom eCommerce and mobile commerce solutions designed specifically to target GenZs.
Don't hesitate to contact us because GenZs won't while abandoning your cart. Consult with our specialists about all your eCommerce and M-Commerce development needs.
FAQs
Why is mobile commerce on the rise?
There are several reasons why mobile commerce is on the rise, including increased smartphone usage, improved mobile experience, rise in the adoption of mobile payment systems, and social shopping. M-Commerce is easily accessible and overall provides better retention than eCommerce.
What is mobile commerce growth?
According to an eMarketer report, mobile commerce has grown and is expected to account for 43.4% of total retail sales in 2023. The same for the US is 6.5%, which is likely to grow to 8.7% in 2026.
What is the history of mobile commerce?
Mobile commerce term was first used by Kevin Duffey in 1997 at the launch of the Global Mobile Commerce Forum. That same year, M-Commerce service was delivered for the first time when the two mobile-phone-enabled Coca-Cola vending machines were installed in Finland, which accepted payment via SMS text messages.
What is the objective of mobile commerce?
The primary objective of mobile commerce is to enable consumers to make purchases and transact online through their mobile devices such as smartphones and tablets. M-Commerce aims at providing consumers with a convenient and seamless shopping experience to be conducted anywhere and at any time.
Recent articles in Coduzion