In the fast-paced world of eCommerce today, the businesses that do well are the ones that can quickly adapt to new technologies and trends. This is where an eCommerce development agency comes in. They help businesses get a team of dedicated professionals who can build and maintain online stores that can compete in the modern digital economy. Choosing the right ecommerce web development agency is important and can make or break your chances of making new business partners. Each step of the process needs careful thought and knowledge.
With our guidance, you can select the perfect ecommerce web design agency that could help you reach its full potential in this online world. We can help you navigate the complicated eCommerce market by giving you the most up-to-date tools and strategies to keep your online store ahead of the curve. Help us build an online store that outperforms the competition.
Understanding Your Business requirements with an expert eCommerce Designing Company
Once you start designing your eCommerce website, it's important to take a step back and look at what your business needs. Working with an experienced eCommerce website design agency will help you make sure you reach your goals. Here are the four key components that you must consider:
Identifying Your eCommerce Goals and Objectives
Your eCommerce website should be designed to achieve specific business objectives. Do you want to increase sales, attract new customers, or improve your brand recognition? Your eCommerce website design agency will be able to make a site that meets all of your needs if you make your goals clear.
Understanding your Target Audience
A successful eCommerce website relies on the designer's detailed understanding of their customer base. Customers' wants and demands should inform the aesthetic direction of your website. When building your website, keep in mind things like user demographics, purchasing patterns, and behavior.
Assessing your Current Ecommerce Infrastructure
Before you start designing your eCommerce website, you should take a look at your current eCommerce infrastructure. What systems are in place to manage the inventory, process the payments, and track all orders? Understanding how your website is set up now can help you find ways to improve it and make sure that your new website fits in well.
Determining Your Budget and Timeline
Lastly, you need to know your budget and deadline for an eCommerce website design project to go well. Make sure you give yourself the time and money you need to reach your goals, and work with eCommerce website agencies to set a realistic timeline for the project.
Working with an experienced eCommerce website design agency will help you make sure your site meets the needs of your business and helps you reach your goals. So, you'll be well on your way to a successful eCommerce website design project if you know what your goals and objectives are, who your target audience is, how your current infrastructure works, and what your budget and timeline are.
How to Choose the Right Magento Ecommerce Development Agency for Your Business
If you're seeking to build or revamp your eCommerce website using Magento, it's crucial to find the right eCommerce development agency to help you achieve your goals. With so many options out there, it can be challenging to determine which Magento eCommerce development agency is the right fit for your business. Here are some key considerations to help you make an informed decision.
Identify the Services Offered by an Ecommerce Magento Development Agency
When choosing an ecommerce development agency for your online store, it's important to understand the specific services they offer, as this can vary from agency to agency. If you're considering an agency that specializes in Magento development, here are some key services you should look for:
Magento customization: If you have unique requirements or need custom features on your ecommerce website, a Magento development agency can help you customize the platform to meet your needs.
Magento theme development: A Magento development agency can help you create a custom theme for your ecommerce website that reflects your brand and enhances the user experience.
Magento extension development: If you need additional functionality on your ecommerce website, a Magento development agency can create custom extensions or integrate existing ones to enhance the platform's capabilities.
Magento maintenance and support: Once your ecommerce website is up and running, it's important to ensure it stays secure and up to date. A Magento development agency can provide ongoing maintenance and support services to help you keep your site running smoothly.
Magento optimization: A Magento development agency can help you optimize your ecommerce website for better performance, speed, and user experience, which can ultimately lead to increased sales and conversions.
Magento migration: If you're currently using a different ecommerce platform and want to migrate to Magento, a Magento development agency can help you migrate your data and ensure a smooth transition.
Additionally, they have the ability to facilitate the migration process from Magento to the latest version of the platform, Magento 2.
When considering an ecommerce Magento development agency, make sure to ask about these specific services and how they can help you achieve your ecommerce goals.
Checking Portfolios and Case Studies
Are you in the market for an eCommerce website that will set your business apart from the competition? Look no further than a top-notch Magento development company. But don't just take their word for it—check out their portfolio and case studies to see for yourself! A company with a good reputation will have a lot of examples that show how good they are, from sleek and stylish design to a smooth user experience. Pay close attention to the projects that resemble your own vision and assess the quality of their work to make sure it's a perfect match. With the right partner by your side, your e-commerce dreams can become a reality.
Examine Their Technical Expertise
In the world of eCommerce, technical expertise is everything. That's why it's important to look at a Magento development agency's technical skills when choosing one. A reputable agency will have a team of developers with a lot of experience and a portfolio of completed projects that show how good they are. In addition to looking at their past work, you should also ask about their experience with different technologies and whether they can work with systems from other companies. A real expert will have the knowledge and skills to make a site that is fast, reliable, and responsive and meets your business's specific needs. So, choose your partner wisely and make your eCommerce dreams a reality.
Evaluating their Project Management Process
Creating a store is a complicated process that needs good project management to be successful. That's why it's crucial to choose a Magento development agency that has an effective and transparent project management process. A reputable agency will have a clear plan for how to communicate, set deadlines, and reach important goals. By establishing a strong working relationship with your development team, you can rest assured that your projects will stay on track and that your goals will be met. When you're looking at potential partners, you can ask about their project management process to make sure you'll be working with people who have the skills you need to finish the project.
Coduzion is deeply committed to revolutionizing eCommerce businesses! Our experts take a new approach to managing your e-commerce store by streamlining your operations so you can reach new heights.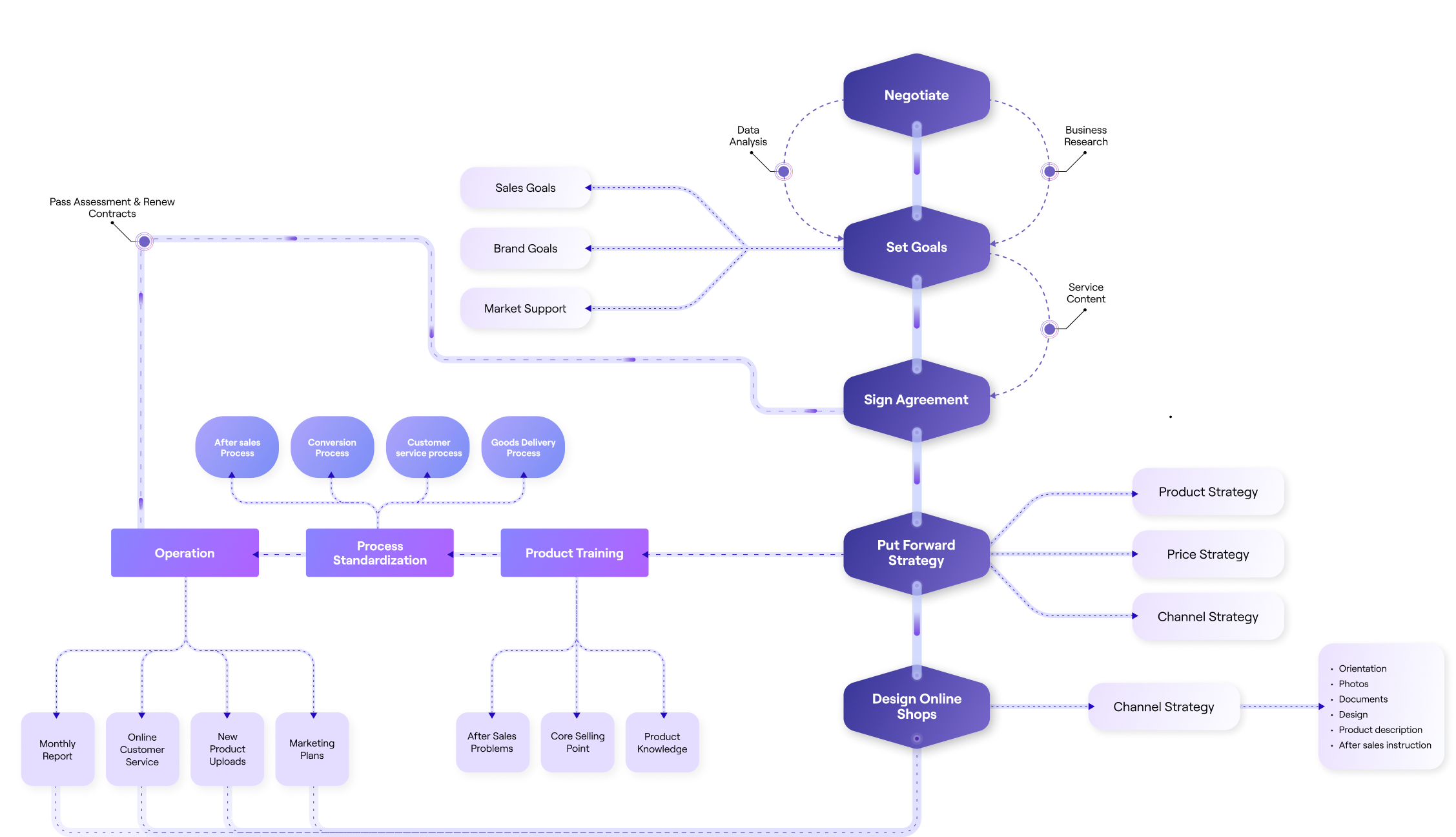 We think that focusing on your customers' needs is essential for any online store to succeed. That's why we mostly focus on understanding the customer's needs, preferences, and behavior, then customizing our solutions to meet their unique demands.
So, whether you're just starting out or looking to take your eCommerce store to the next level, we have all the expertise, tools, and passion-driven developers that will help you achieve all your goals. So why wait? Join the Coduzion family today and experience the power of eCommerce done right!
Assess the Capabilities of Their Team Members

Your eCommerce platform's success is directly proportional to the quality of your development team. That's why it's important to hire an eCommerce website development service with a staff of professional developers and a focus on Magento. A reputable company will spend a lot on training and development for its employees so that they can keep up with changes in the industry and client needs. If you hire a team that has a lot of experience with the Magento platform, you can be sure that your project will be done well. So, when vetting potential partners, it's a good idea to ask about the team's experience and training when it comes to making the product. You can use this to verify that you're building a qualified team for your project.
Pursue their Feedback from Multiple channels
In today's digital age, it's easier than ever to research potential partners before making a decision. When choosing an eCommerce development company, it's important to get feedback from more than one source. Online reviews, customer testimonials, and case studies can tell you a lot about an agency's reputation and how happy its customers are. You can get a better understanding of how the agency has performed in the past and whether they've delivered successful projects for their clients. By looking at feedback from many different places, you can make smart decisions and choose a partner with a history of success. So, don't hesitate to do your research and get a clear picture of the agency's reputation before making a decision.
Determine their Level of Proactivity or Responsiveness
A company's responsiveness and initiative are crucial in e-commerce web design. You'll need a partner who will do what it takes to see your project through to completion, both in terms of output and continuing support. A trustworthy Magento development company will answer your messages quickly and often, so you always know where the project is. They will also work on making changes and improvements that will make your site easier to use, more efficient, and better overall. If you have a partner who is both proactive and responsive, you can rest assured that your e-commerce website is in good hands and your firm will do well.
Investigate Their Information Resources Hub
A company with a good reputation will have a blog with recent articles that explain the most cutting-edge technological changes. A company's dedication to giving its customers the best service possible is reflected in the resources it puts into its central information repository. This helps you to finish your current task, but will also be a stepping stone to more growth and success in the future.
Get Acquainted with Their Development Procedures
Getting acquainted with an ecommerce development agency's development procedures is a crucial step when choosing the right agency. By understanding their development process, you can gain insights into how they approach ecommerce development and ensure that their methodologies align with your business goals and expectations. Here are some key points to keep in mind when evaluating an agency's development procedures:
Agile methodology
Quality assurance
Project management
Communication
Documentation
By getting acquainted with an ecommerce development agency's development procedures, you can ensure that you're partnering with an agency that has a proven track record of delivering high-quality ecommerce solutions. This will ultimately help you achieve your ecommerce goals and drive business growth.
Confirm the agency's Awareness of Up-to-date Trends and Advancements in Technology
To make a successful eCommerce website, you need to keep up with the latest trends and technological advances. An eCommerce development agency that knows about the latest ecommerce trends, technologies, and strategies will be able to offer innovative solutions that can help improve your website's performance and user experience. If you choose a company that values ongoing learning and development, you can be sure that they'll be able to help you stay ahead of the curve in this rapidly changing eCommerce landscape.
Evaluating Communication and Collaboration with your Ecommerce Development Agency
Effective communication and collaboration are essential when partnering with an eCommerce website design agency. It ensures that your ideas and vision are understood and that the project stays on track. You can make sure your project goes well by working closely with the agency and keeping the lines of communication open.
Importance of Clear and Open Communication
To build a good relationship with an eCommerce website agency, you need to talk to them in a clear and honest way. To reach your eCommerce goals, you need to be on the same page about expectations, deadlines, and needs. To make sure that the final product fits your brand, is of high quality, and meets your customers' needs, you must keep in touch with your team throughout the development process.
The Role of the Development Agency in Your eCommerce Strategy
An eCommerce website agency plays a vital role in your eCommerce strategy. Their knowledge of customer behavior and trends, as well as their skills in building and designing websites, will help your business do well in the online market. By working with an agency, you can learn about your business, make a website that fits your brand, and get your target audience interested.
The Importance of Collaboration and Partnership
Collaboration and partnership with an eCommerce website design agency can assist you in meeting your eCommerce goals more quickly. With a dedicated team of experts working alongside you, you can leverage their knowledge and experience to maximize your online potential. Seeing your agency as a partner will help you build trust, improve communication, and hold them more accountable, all of which will make your eCommerce strategy more successful.
Assessing Cost and Value
Working with an eCommerce website design agency requires assessing both cost and value to ensure the best outcome for your business. It's crucial to understand the cost structure of the agency's services as well as the value they offer in terms of expertise, quality, and support. You'll be able to make a good decision and have a good relationship with the agency if you weigh the cost against the value.
Understanding the Cost Structure of eCommerce Development Agencies
Before hiring an eCommerce website design service, you should find out how they set their prices. Costs might vary greatly based on the scope of work, the project's complexity, and the agency's level of expertise, as most agencies charge either hourly or set project rates. It is important to get a detailed breakdown of costs ahead of time so that there aren't any surprises later on in the design process.
Determining the Value of the Services Offered
Pricing is important, but it's also important to think about how valuable an eCommerce website design agency's services are. Look for a company that offers a wide range of services, like website design, development, SEO, and maintenance, on an ongoing basis. Also, look at the agency's experience and portfolio to see if they can produce high-quality work that fits with your business goals and meets your clients' needs.
Balancing Cost and Quality
It is important to find a good balance between price and quality when working with an eCommerce website design studio. Even though a more expensive agency might have more experience and knowledge, it is important to make sure that the money is well spent. A lower-priced agency, on the other hand, might save you money in the short term, but it might not have the professionalism and expertise you need for long-term success. When choosing an eCommerce website design company, you should look at both the price and the quality of the services.
Making a Final Call: Choosing the Right eCommerce Website Design Agency
After looking at all of the possible eCommerce website design firms in detail, it is time to make a final choice. Several aspects must be considered, making this a difficult undertaking. In this post, we'll talk about the last steps you need to take to make an informed choice and choose the best agency for your business.
Comparing and Contrasting Potential Agencies
One of the most important parts of making a choice is to compare and contrast the different eCommerce website design agencies that you are considering. It is essential to compare each agency's price, services, competence, and client testimonials. Also, it's important to figure out how each agency fits in with the goals and values of your business.
Weighing the Pros and Cons
After comparing and contrasting different agencies, it is important to think about the pros and cons of each option. Make a list of the pros and cons of each agency and think about how they fit with your goals, budget, and timetable.
Wrapping up
In today's digital age, having a strong online presence is essential for businesses to thrive. Ecommerce has become a critical component of the online landscape, and building a successful ecommerce store requires the expertise of an ecommerce development agency. Choosing the right agency can be a daunting task, but by following this comprehensive guide, you'll be better equipped to identify the key factors to consider when selecting an ecommerce development agency. From understanding your business needs to evaluating the agency's expertise and experience, you can make an informed decision and partner with an agency that will help you achieve your ecommerce goals. Remember to take your time, ask questions, and do your due diligence before making a final decision. By choosing the right ecommerce development agency, you can build a strong and profitable online store that will serve your business for years to come.
FAQs
What is an e-commerce development agency?
A team of experts builds and optimizes online stores for businesses to help them grow. This is what an eCommerce development agency does.
What should I look for in an eCommerce agency?
To find the right eCommerce agency, you should look at their experience, rate of success, services offered, ability to communicate and work together, cost, and value.
How to choose the best eCommerce website development company?
To choose the best eCommerce website development company, you need to look at their experience, portfolio, reviews, technical skills, and the cost/value ratio.
What is custom eCommerce development?
Custom eCommerce development is the process of creating a one-of-a-kind online store that fits the needs, goals, and customer experiences of your business.
What are the benefits of eCommerce development?
Ecommerce development gives businesses a way to reach more people and make more money that is affordable, scalable, and easy to use.
Chirag Bhavsar
Founder & CEO, Coduzion
Chirag Bhavsar is Founder and CEO at Coduzion. Gusty, Passionate, and a Sports freak. Loves to spend time reading financial books and playing outdoor games as soon as He is away from his desk. He always loves to take on new challenges and get good at them.